Kaufman Engineered Systems KPal K5 Group - A Full Layer & Bulk Robotic Palletizing System
Fast, dynamic, & reliable solutions designed for containers, cases, bundles & trays.
The new Kaufman K5 Group of palletizers are a perfect fit for your high speed palletizing needs! This series features a tier formation area which provides a unique combination of speed, flexibility, and control.
For containers, speed is king and the K5 Group does not disappoint! For case, trays or bundles, a primary benefit of the K5 Group is its ability to orient the product sides in the desired orientation on the load. This is especially useful for retail marketing where specific sides of products are to be positioned on the exterior of the unit load. Another distinct benefit to the K5 Group is its ability to handle small case and bundle sizes.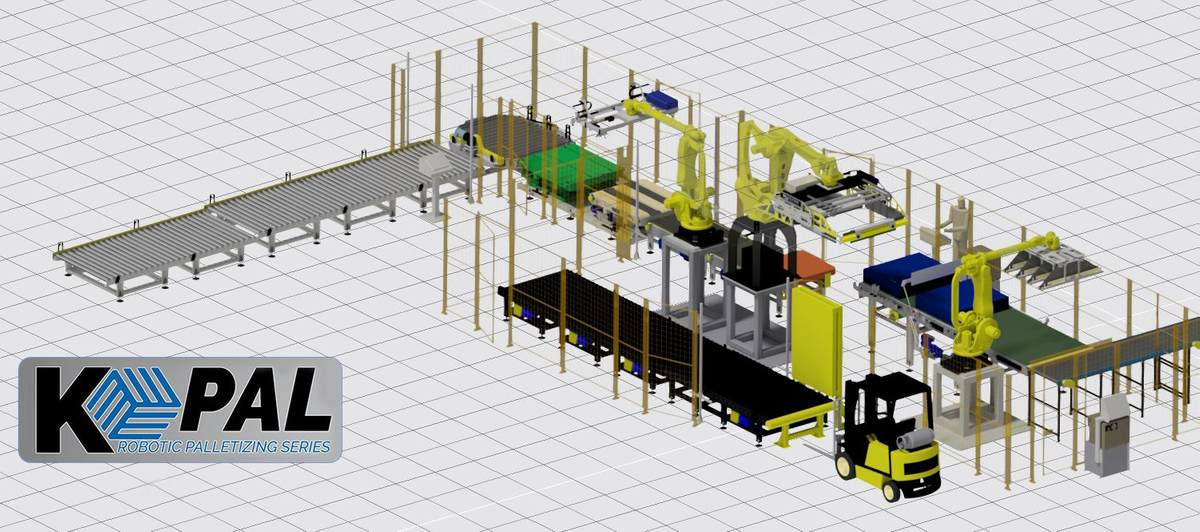 The K5 Group is available in the following models: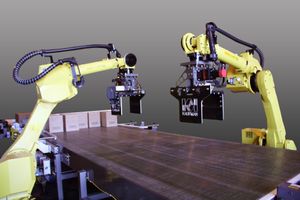 End of arm tooling: clamps
KPal K5 Standard Features
The KPal K5 System comes with a wide range of standard features:
Allen Bradley Components Including: CompactLogix, ControlLogix, and GuardLogix PLC's, Powerflex 525 Drives and Panelview Interface Screens.
FANUC Robots.
Integrated vision to detect sheet alignment.
Kaufman Engineered Systems (KES) manufactured end-of-arm tooling.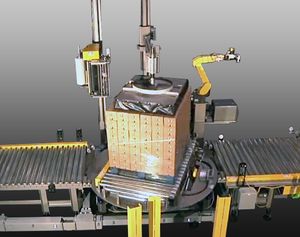 Option: stretch wrapper with robotic labeler
KPal K5 Options
Choose among a huge selection of KPal Options:
KPal K5 - Industry Targets
The KPal K5 Group of Full Layer Palletizers can be tailored to your industry segment. We offer custom solutions to many industry applications.
Industries we serve:
Food
Beverage
Building Products
Paper
Plastic Container
Glass Container
Pharmaceutical
Personal Care
Our Robot Line Integration Expertise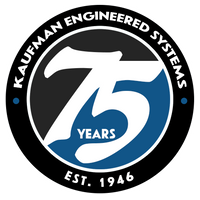 In 1995 Kaufman Engineered Systems designed and released their first robotic EOAT (end of arm tool) to bulk palletize glass and plastic containers. The goal was to build a tool which could accommodate palletizing a full layer of containers and distribute dunnage including pallets, tier sheets, and top frames. 26 years and 5 revisions later, the patented Kaufman K5 EOAT is a simple yet effective solution for palletizing many products including cases, trays, bundles, and containers.
Combine the K5 EOAT with Kaufman's 75+ years of material handling and stretch wrap equipment offerings along with 26 years of partnership with FANUC Robotics, we offer complete end of line system solutions. Kaufman Engineered Systems is the designer, manufacturer, and integrator. Our Kaufman team installs, starts up and services your new system at your facility. This provides our customers with a single point of contact and one company they can rely on to get the project executed.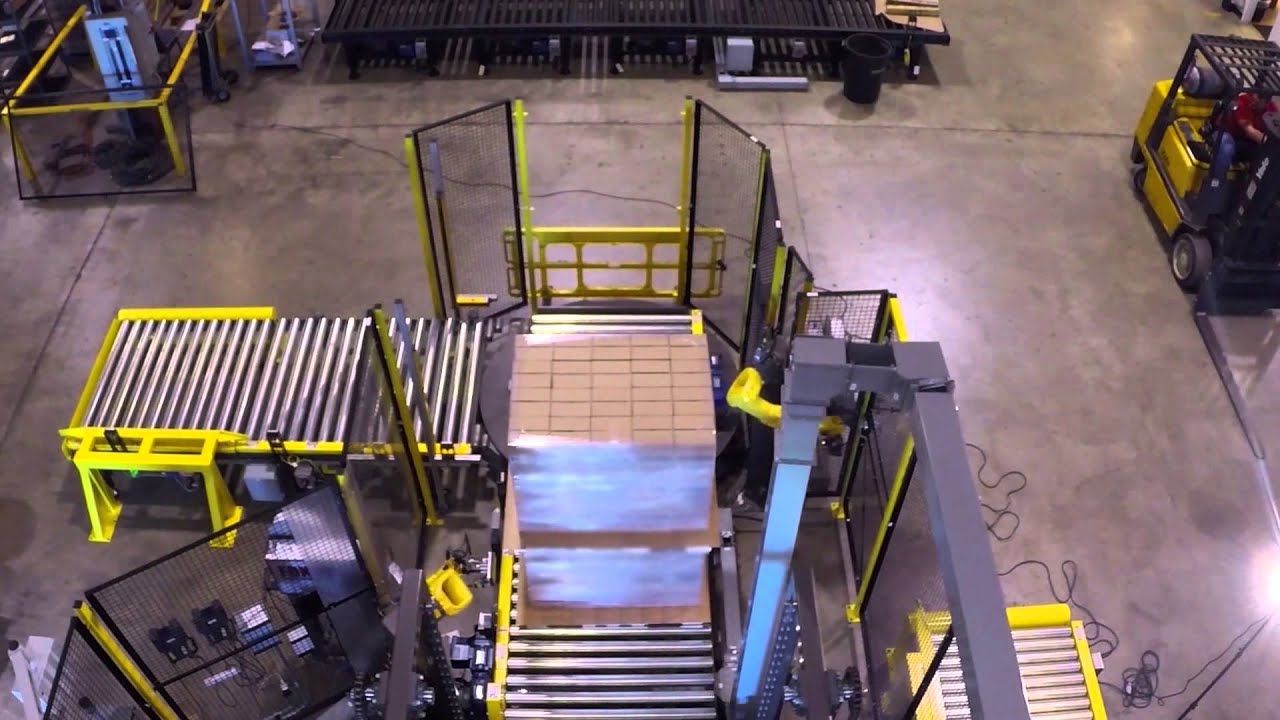 KPal K5 - Full Layer Palletizer
KES K6 Full Tier Case and Tray Palletizer SXPA-30 Automatic Stretchwrapper In-line Dual Load Stacker & KES KRL Robotic Labeler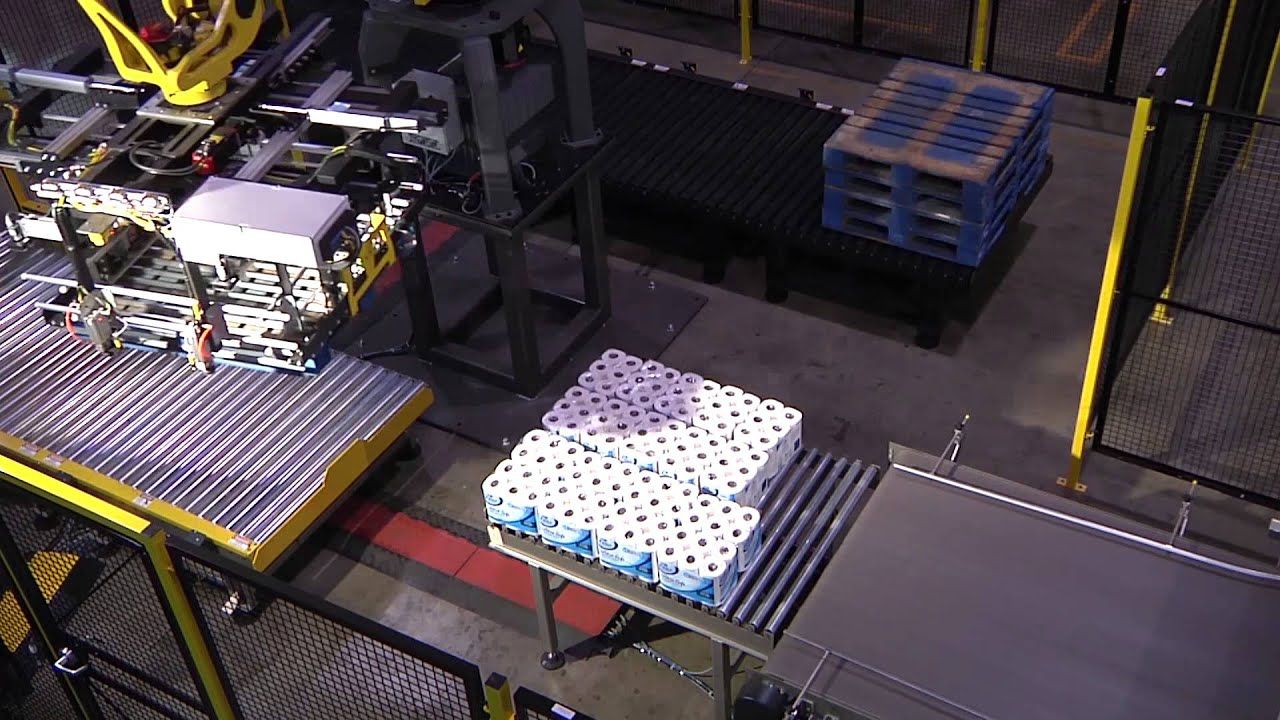 KPal K5P1 - Spatula
New full tier spatula end-of-arm tooling on a FANUC 410iB/450 robot, picks cases, open trays and bundles.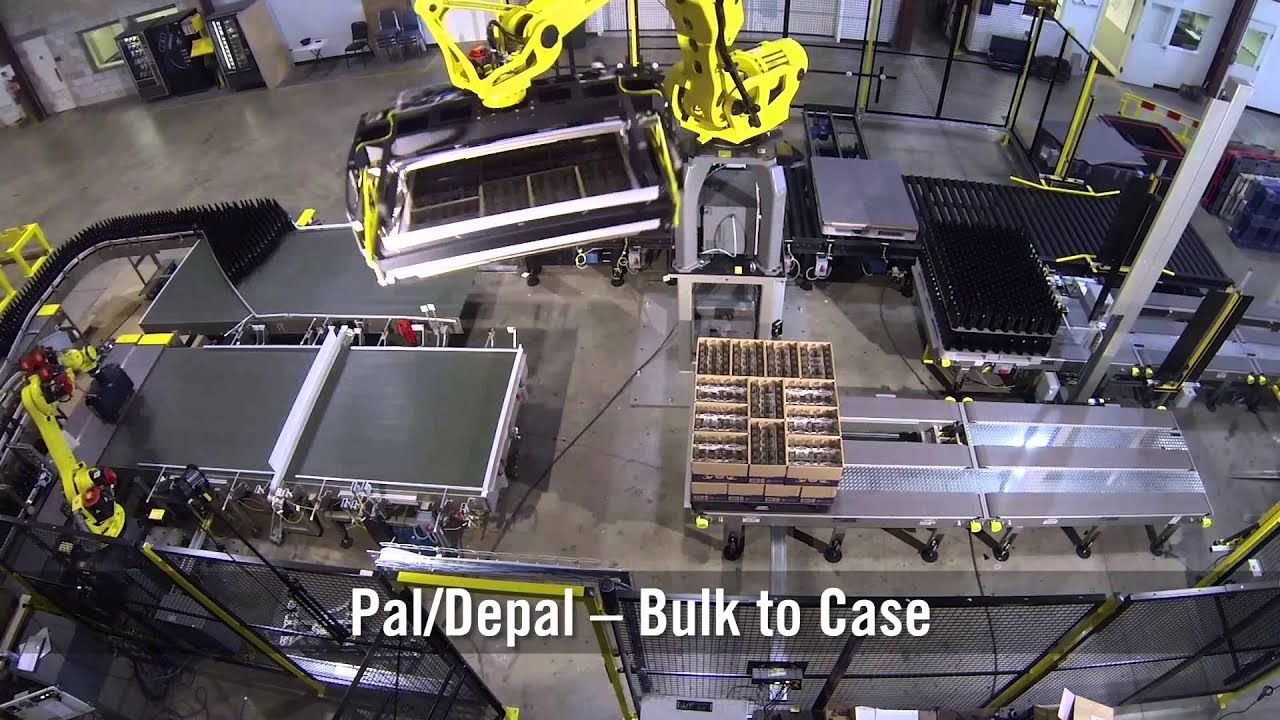 KPal K5G - Bulk Glass
Fanuc Robotic full layer glass bottle and case palletizer and case depaletizer.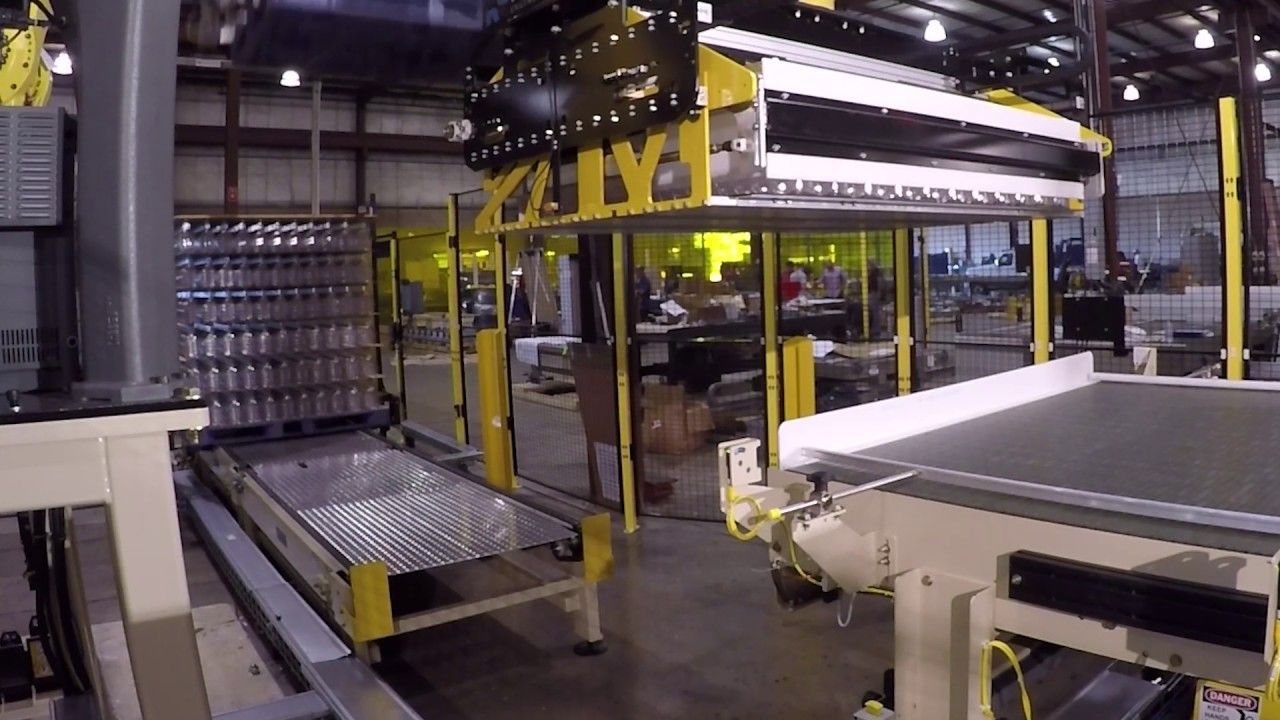 KPal K5P - Plastic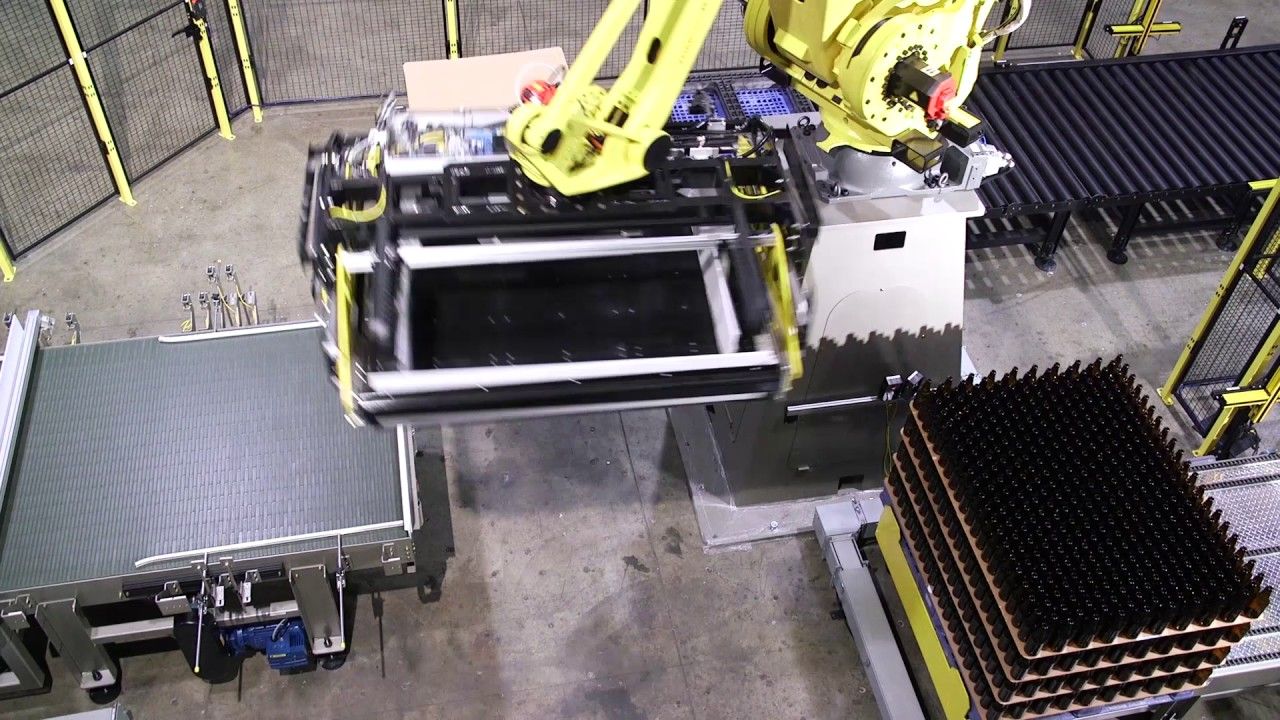 KPal K5G - Glass Bottles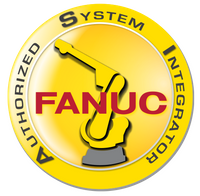 As a level four Authorized Systems Integrator for FANUC Robotics, FANUC's highest level of attainment, Kaufman Engineered Systems applies FANUC robot technology to provide customers complete end of line system solutions.
The solution may be as simple as a dedicated palletizing cell, or as complex as a multi-line handling and palletizing system. No matter how big or small, Kaufman Engineered Systems will address each project and customer with the same integrity and professional response.
With each KPal system comes Kaufman Engineered Systems service and support. Backed by over 75 years serving customers, Kaufman is a partner you can rely on to respond quickly and efficiently when having service needs. With your KPal palletizer you will have service options to choose from if you wish to setup quarterly, semi-annual, or annual maintenance support with Kaufman Qualified Technicians.
Kaufman Engineered Systems KPal Series Palletizers. Let us help you become a new member of our family. We look forward to working with you.
Complete line of Robotic KPal Palletizing and Depalletizing solutions.