Corporate Headquarters
1260 Waterville-Monclova Road, Waterville, Ohio 43566
Bowling Green Location
504 E. Woodland Circle, Bowling Green, OH 43402
Nearest major airport is Detroit Metropolitan Wayne County Airport (DTW) - 1 hour away from our location in Waterville.
If traveling from Florida (Orlando, Tampa, Fort Myers) or Chicago, IL, Toledo Express Airport (TOL) is 18 minutes away from our location in Waterville, Ohio.
If visiting the Waterville, OH location
Hotel accommodations may be made at:
Staybridge Suites
Phone: (419) 878-8999
1-877-238-8889
Fallen Timbers Shopping Center
2300 Village Drive Building 1800
Maumee, OH 43537
Hilton Garden Inn
Phone: 419-873-0700
6165 Levis Commons Blvd.
Perrysburg, OH 43551
**Other area hotels located in Maumee, Ohio on and near W. Dussel Drive.
If visiting the Bowling Green, OH location
Hotel accommodations may be made at:
Holiday Inn Express & Suites
Phone: 419-353-5500
2150 E Wooster St, Bowling Green, OH 43402
Fairfield Inn & Suites by Marriott
Phone: 419-352-0033
1544 E Wooster St, Bowling Green, OH 43402
Hampton Inn
Phone: 419-353-3464142
Campbell Hill Rd, Bowling Green, OH 43402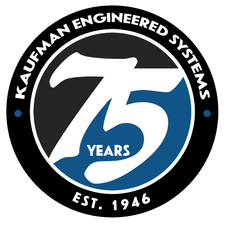 Why Companies Choose Kaufman Engineered Systems?
Stability: With over 75 years of serving our customers, Kaufman continues to provide innovative products backed by five-star service.
Quality: No one can match our machinery's superior construction and durability.
Dependability: With our 24-hour service support, you can count on Kaufman to be there when you need us most.
In House Design and Manufacturing: Kaufman employs a full staff of electrical, mechanical, and robotic engineers to design and install the machines that meet your specific needs.
Commitment to Excellence: We are customer focused, and we recognize that there are no universal automation solutions. Your needs are thoroughly analyzed and reviewed by our engineering staff to find the most efficient, cost-effective solution for your business.
Your Turn-Key Provider: From machine fabrication to installation and start-up, Kaufman is there to support you.
Improve your Bottom-Line: Whether it's shaving seconds off cycle time or squeezing space out of your plant layout, we are committed to improving your efficiencies and operating costs.
Watch Our Equipment in Action