Research and Development Laboratory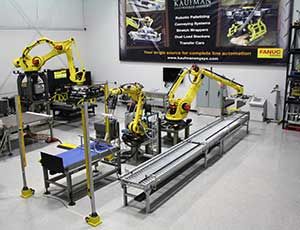 The research and development lab is an invaluable tool when customizing and testing customer packaging products. It allows Kaufman engineers to verify important process parameters before, during, and after the quoting process, with dedicated testing for:
Robot speed and utilization
Product pick ability and turning
Conveying characteristics
Solution proving
This up front testing takes "the unknown" out of the equation, so you know your automated system solution has been designed using hard, factual data.
Kaufman's research and development lab is equipped with all the state-of-the-art tools and robotics — the same quality machinery we sell to our customers — needed to customize an automated system that fits your unique product.
Let the line automation experts at Kaufman Engineered Systems customize equipment in our research and development lab to suit your unique system requirements. Call 419-878-9727 or email us at info@KES-USA.com to learn more.