Kaufman Engineered Systems KPal K5G Group
Full Layer and Bulk Robotic Palletizing Systems for the Glass Industry - Fast, Dynamic, and Reliable Palletizing Solutions designed for glass containers.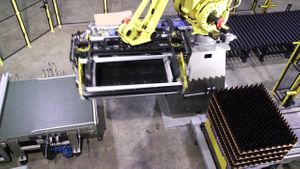 K5 Bulk Glass Palletizer System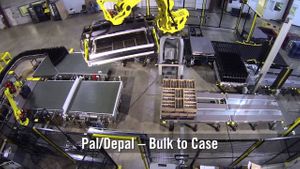 KPal K5G Full Layer Glass Bottle and Case Palletizing and Depalletizing Robotic System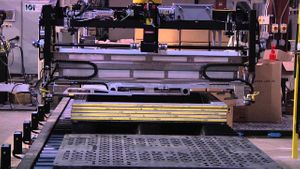 KPal K4G Full Layer Glass Bottle Palletizing System
Full Layer Robotic Glass Bottle and Case Palletizing System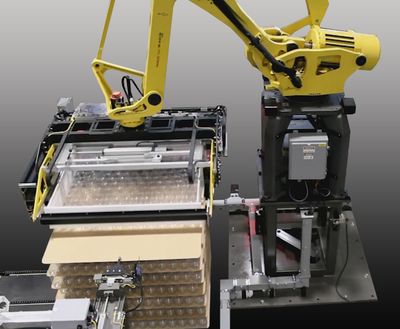 In 1995 Kaufman Engineered Systems designed and released their first robotic EOAT (end of arm tool) to bulk palletize glass and plastic containers. The goal was to build a tool which could accommodate palletizing a full layer of containers and distribute dunnage including pallets, tier sheets, and top frames. 26 years and 5 revisions later, the patented Kaufman K5 EOAT is a simple yet effective solution for palletizing many products including cases, trays, bundles, and containers.
Combine the K5 EOAT with Kaufman's 75+ years of material handling and stretch wrap equipment offerings along with 26 years of partnership with FANUC Robotics, we offer complete end of line system solutions. Kaufman Engineered Systems is the designer, manufacturer, and integrator. Our Kaufman team installs, startups and services your new system at your facility. This provides our customers with a single point of contact and one company they can rely on to get the project executed.
The new Kaufman K5 Group of palletizers are a perfect fit for your high speed palletizing needs! This series features a tier formation area which provides a unique combination of speed, flexibility, and control. For containers, speed is king and the K5 group does not disappoint! For case, trays or bundles, a primary benefit of the K5 group is its ability to orient the product sides in the desired orientation on the load. This is especially useful for retail marketing where specific sides of products are to be positioned on the exterior of the unit load. Another distinct benefit to the K5 group is its ability to handle small case and bundle sizes.
The K5 group is available in many models, including: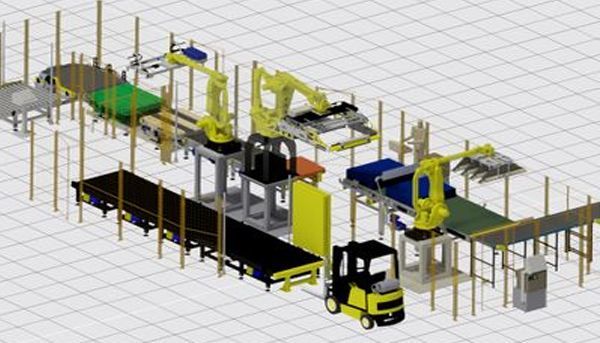 KPal K5G Palletizing System
The K5G glass palletizing system has been designed for handling and palletizing glass containers. Glass containers are commonly used for beverages, wine, spirits, soft drinks, beauty products and much more. Kaufman provides the complete solution for conveying, palletizing, strapping, and stretch wrapping bulk containers.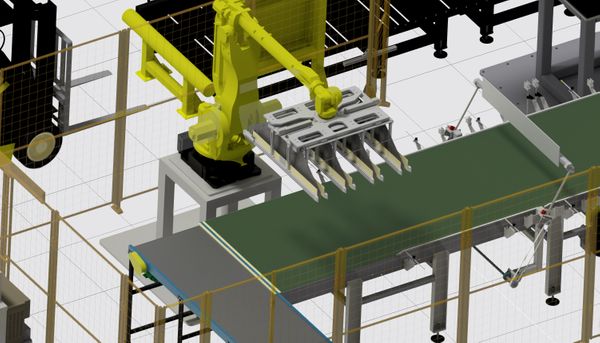 Infeed and Tier Formation of Robotic System
Unique to Kaufman Engineered Systems K5G Palletizing system is our patented tier formation solution. Using a FANUC robot and a row sweep end of arm tool, the system is simple yet robust in design. The row sweep end of arm tool, interface to the robot and tier formation will automatically stagger rows based on the recipe and need for containers. The application of using a robot over a conventional gantry style sweep or pusher located from the side provides improved speed and consistency for the row sweep process. For speed requirements we offer a dual lane, 4 lane, 6 lane and 8 lane configurations. The sequence of operations includes infeed of the desired row of containers, robot sweeps across the infeed mat-top conveyor to the tier formation, conveyor releases the containers with a fluid raise return motion and ready to start the cycle. For slower applications, a non-robotic pneumatic or servo row sweep is available. Our Account Managers will help qualify and design the most economical and efficient solution for your needs.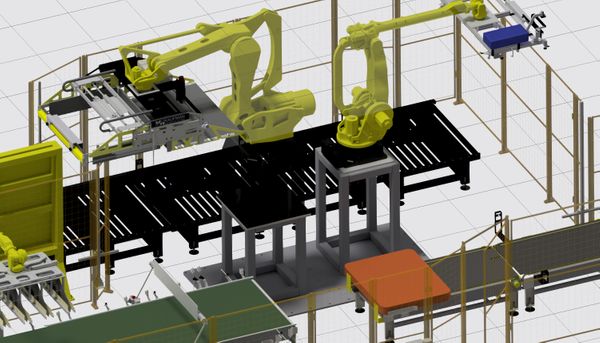 FANUC Robotic Palletizer
Kaufman Engineered Systems K5G palletizing solution is a patented solution. Two key benefits of this solution is the simplicity in architecture and reduced footprint the system offers. One robot and one end of arm tool delivers palletizing of the product, handling of the tier sheets, handling of the pallets and application of top frames. The system uses a FANUC M-410iB/500 kg robot and has a max. 500kg payload capacity in addition to the end of arm tool. Some key design features are the use of FANUC IR vision to assist the tool in picking and placing both the product and dunnage in a perfect square length and width orientation in the palletizing position. Also, a significant upgrade during the last revision removed all air from the tool for squaring of tiers. Now, all operations are electric which provides a more consistent and flexible offering for different products and tier sizes.
Additional offerings includes the ability to accommodate more than one container type at a time. The system can service up to two types of unique containers for one cell and can be configured for more using a rail system with the robot.
This system is extremely flexible and handles a large range of containers from small to large. The end of arm tooling automatically adjusts between 40" x 48" and 44" x 56" tier sizes.
Contact Kaufman today and let us help with your next bulk palletizer.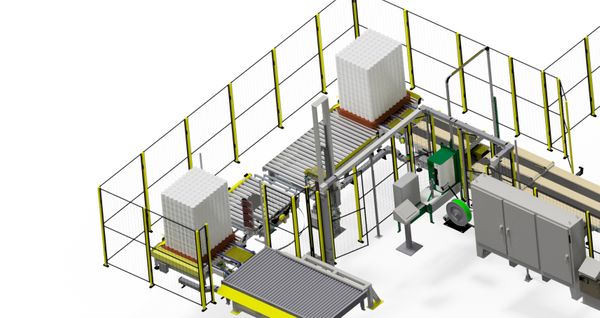 Strapper and Stretch Wrapper For Load Securement
Upon exit of the K5G Bulk Palletizing System, the finished load needs securement prior to pick-up by warehouse operators. An automatic strapper or also referred to as an automatic bander, applies a 2 x 2, 4 x 4 or other selected band pattern based on customer needs. KES commonly integrates strapping units along with local controls for strap pattern selection, stop, start, manual, auto and diagnostics. In addition, KES manufactures a lift and turn or a strapper shuttle and sequences the load through the strapper.
Upon completion of strapping the palletized load, the finished load is conveyed to an automatic stretch wrapper. Here stretch wrap is applied to the unit to act as a dust cover and final containment to keep containers in place. KES manufactures a variety of stretch wrapper models to accommodate the loads per hour and film size requirements. Two standard models KES installs commonly is The Sxpa-20-100" automatic rotary arm stretch wrapper and The Expa-15-100" automatic rotary table stretch wrapper. The SXPA rotary arm model applies film to the stationary load while the film head is rotated around the unit. This is beneficial and suggested for more unstable palletized loads. The EXPA rotary table stretch wrapper applies wrap while the turntable is rotating the load and the stretch head is located on a fixed tower. The benefits of a rotary table stretch wrapper are reduced footprint for when space is important. Both solutions offer 20" or 30" film size options, selectable wraps patterns, automatic load height detection, and system diagnostics.
After final packaging through the stretch wrapper, Kaufman Engineered Systems will manufacture and supply finished load accumulation based on customer requirements. KES will work with the customer to design, manufacture, program, install and startup the finished end of line discharge conveyor system to provide loads to the warehouse operators.
Robotic End of Arm Tooling
The Kaufman Engineered Systems K5 end of arm tool is a revolutionary tool in the palletizing industry and is patented around design and process. Since its inception we have gone through a variety of generations each time making the tool more robust and precise for flexibility and operation. The EOAT was created around a need for a simplistic solution for the container industry, palletizing or depalletizing a full layer of glass or plastic containers. This tooling also has served as an excellent solution for applications in palletizing full layers of cases or bundled product as well which demands a certain speed or bottom support.
As a Level 4 FANUC Authorized System Integrator, the K5 end of arm tool uses additional FANUC products including FANUC vision and a FANUC aux axis for operating the drawer of the tool. This feature provides seamless function and operation during the palletizing process. The EOAT has the capability of picking product, tier sheets, pallets and top frames. KES can customize the full layer palletizing or depalletizing system to fit your unique product needs whether that be utilizing all available capabilities or just specific items needed per your project. For example, some projects may only require the need to pick the product and pallet. The K5 solution is about as flexible and simple as tools get.
We look forward to hearing from you to help design your next K5 palletizing or depalletizing solution.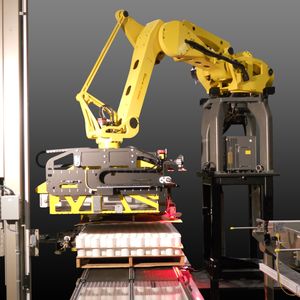 The KPal K5 Group of Full Layer Palletizers can be tailored to your industry segment whether it be Food, Beverage, Building Products, Paper, Plastic Container, Glass Container, Pharmaceutical, Personal Care to name a few.
Standard Features:
Allen Bradley Components Including: CompactLogix, ControlLogix, and GuardLogix PLC's, Powerflex 525 Drives and Panelview Interface Screens
FANUC Robots
Kaufman Engineered Systems (KES) manufactured end-of-arm tooling

KPal Options:
Sheet, pallet, and dunnage handling
Integrated vision to detect sheet alignment
Infeed conveyance systems and spiral conveyors to deliver product to palletizer
Complete line of unit load conveying equipment including roller conveyors, chain conveyors, mattop conveyors, transfer cars, turntable conveyors, and chain transfers
Material handling equipment including, pallet dispensers, dual load stackers and top sheet dispensers to name a few.
Safety performance level calculations, creation of safety validation documents, and field safety validations
Fortress Trapped key gate switches and Ross automatic air dump valves
System pre-wire package with NEMA-12 wireway
FANUC ZDT - Zero Downtime Monitoring
Panel heating /air conditioning
Zone disconnects
Barcode scanning
Utilizing our patented fifth generation full layer end of arm tool technology, this robotic full layer palletizing system picks glass and plastic containers, film wrapped bundles, cases and display trays.
Full-Layer palletizing system capabilities:
Glass containers
Plastic containers
Film wrapped bundles
Cases
Display trays
System Features:
Patented Technology
Universal Tooling
Robot Control
Dynamic Dunnage
Kaufman Global Support
Robotic tier forming:
Robot lane sweeping
Cases, trays, bundles
Various container types
Complex pattern forming
5th generation full-layer end-of-arm tool picks:
Pallets
Slip sheets
Tier sheets
Top frames
Product
Complete line of Robotic KPal Palletizing and Depalletizing solutions.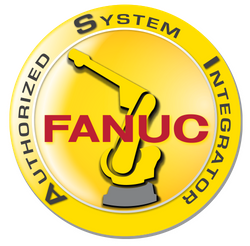 As a level four Authorized Systems Integrator for FANUC Robotics, FANUC's highest level of attainment, Kaufman Engineered Systems applies FANUC robot technology to provide customers complete end of line system solutions.
The solution may be as simple as a dedicated palletizing cell, or as complex as a multi-line handling and palletizing system. No matter how big or small, Kaufman Engineered Systems will address each project and customer with the same integrity and professional response.
Service And Support:
With each KPal system comes Kaufman Engineered Systems service and support. Backed by over 70 years serving customers, Kaufman is a partner you can rely on to respond quickly and efficiently when having service needs. With your KPal palletizer you will have service options to choose from if you wish to setup quarterly, semi-annual, or annual maintenance support with Kaufman Qualified Technicians.
Kaufman Engineered Systems KPal Series Palletizers. Let us help you become a new member of our family. We look forward to working with you.