Robotic End-of-Line Solutions for The Food Industry
Automation Solutions for The Food Industry
Kaufman Engineered Systems can automate your end of line food system for a wide range of products including meat, dairy, confectionery, baked goods, fruits, vegetables, convenience foods, mill products, coffee and tea, seasonings and sauces, sugar and pasta. Have KES help create your new end of line automation solution for your company.
Customize your packaging systems today: Contact our award winning account managers for a free consultation. Call 419-878-9727 or email us at Info@KES-USA.com.

Robotic Picking:
A variety of FANUC robots can be considered for picking applications. Typically low weight and high speed are the criteria for picking applications. FANUC's line of Delta Robots (M-1iA Series, M-2iA Series, M-3iA Series, DR-3iB Series) and FANUC's new line of SCARA SR-iA Series of robots are popular due to their high speed and precise performance. What sets FANUC robots apart is their additional offerings to assist in the complete solution. Vision and Line tracking components and software are all supported and part of FANUC making integrating the solution fluid. Click here to learn more about robotic picking >
Automated Packing:
Robotic packing solutions usually means low to medium weight ranges and handling a variety of packages or products. Kaufman will apply the optimum model FANUC robot to meet the need. Pouches, containers, or just the product unpackaged itself Kaufman can supply the solution. Cases, Trays, and Bundles are the common requests for packing systems. For case and tray requirements upstream case and tray erecting equipment is typical and for bundle applications, film overwrap or film with shrink overwrap is part of the solution. Kaufman will qualify, test if needed, design, manufacture and install the complete packing solution. Learn more about robotic packing >
Palletizing Automation:
Kaufman Engineered Systems offers our KPal series of robotic palletizers utilizing FANUC robotics robots. Everything from Cases to trays, pails to bundles to bags the KPal series can accommodate. High speed to slow, Heavy to light and small to large, our robotic palletizing solutions can answer. As a Level 4 integrator, and having been in the game since the inception of robots in the palletizing market, Kaufman Engineered Systems has a vast knowledge and expertise in applying solutions for our customers. Click here to learn more about automated palletizing >
Automatic Conveying:
Chain driven roller, chain, mat-top, 24 volt roller, table top, belt, belt over roller, v-guided belt, just to name a few, Kaufman manufactures or will integrate the right solution to fit the application. Having over 70 years of experience of design and manufacturing conveyor solutions, Kaufman Engineered Systems has an extensive knowledge and expertise in applying the best technology for the system needs. Kaufman provides conveyor solutions to support product transport to picking and case packing machines, transport and delivery to palletizing systems, and full pallet handling in and around stretch wrap systems. No matter how small or large, simple to complex, Kaufman will work with their customer to design, manufacture, and install the best conveyor solution possible. And when it's all done Kaufman's Service and Support team will be there to assist with any parts, maintenance, or equipment service needs. Click here to learn more about end of line conveying >
Fully Automatic Stretch Wrapping Systems:
Kaufman Engineered Systems was one of the pioneers for stretch wrappers in the early 70's. With a long history and vast expertise in stretch wrap solutions, Kaufman can answer most any question and guide a customer to the best solution when it comes to stretch wrapper needs. SXPA (automatic overhead style wrapper), EXPA (automatic rotary table style stretch wrapper), and SRPA (automatic ring style stretch wrapper) where model names customers came to recognize. Three years ago Kaufman released the KForce family of stretch wrappers with options like cornerboard application for protecting corners of loads, top sheet dispensing as a dust cover or top protection, CAM mode (corner anticipation mode) for optimal consistency in film application and roping for securing the load to the pallet or allowing for gaps in the wrap for the load to breathe. The KForce models come to market as the KForce R20 and KForce R35 as fully automatic rotary arm offerings and the T20 as s fully automatic offering in the turntable style. Whether our customers are looking for slow or high speed, Kaufman has the solution. Click here to learn more about fully automatic end of line stretch wrap systems >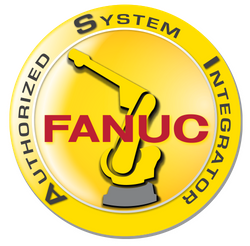 Upgrading Existing Equipment?
Your Single Source for End-of-Line Automation. We design, manufacture and integrate. With fewer headaches. Less paperwork. And no compatibility issues. Just the best, most efficient system for your business.
Kaufman Engineered Systems is a premier integrator for FANUC robotics offering robotic palletizers, stretch wrapping machinery, automated packing machines, food packaging machines, high speed packaging and other robotic handling systems. Kaufman is your single source manufacturer for complete end of line automated packaging since 1947.
Other industries we serve: