Automatic Transfer Car Conveyors are built to divert or merge
Kaufman's automated transfer car conveyors are built to divert or merge palletized products, dunnage supplies, and empty pallets across multiple lanes. For example, they can be used to deliver loads to specific workstations or to transfer loads from several palletizer systems to a shared location in the facility, such as a stretch wrapping station. Kaufman has a proven record of designing and manufacturing dependable transfer car conveyors to run 24/7 in customer facilities. These transfer car conveyors run on a floor track within the facility at a much lower cost than using chain roller transfers or standard conveyors to route products along the same layout.
Standard Positions:
Single position car: Designed to pick up and carry one load/pallet at a time.
Two-position, in-line car: Designed to pick up and carry one load/pallet on two different conveyor decks and drop off each load/pallet separately. Used when space is an issue or to pick up a loaded pallet and drop off an empty pallet.
Two-position, side-by-side car: Designed to pick up and carry two loads/pallets on one conveyor deck and drop off two loads at the same time. Provides a solution for fast production lines mixed with slower lines.
Four-position car: Designed to pick up and carry two loads/pallets on conveyor deck side "A" and pick up and carry two loads/pallets on conveyor deck side "B." This system configuration has the ability to drop off side "A" loads and then move over and drop off side "B" loads. This configuration also provides the maximum number of possible solutions for fast production lines, multiple production lines, and dunnage required back to the palletizers with multiple drop-off points.
Standard Features:
Low-speed transfer cars with up to 120 feet per minute travel
High-speed transfer cars with up to 300 feet per minute travel
Allen Bradley PLC controls
Allen Bradley Powerflex 525 drives
Product containment fence on systems utilizing high-speed transfer cars
Laser positioning for high-speed transfer cars
Load out of position photoeyes
Transfer Car Options:
Transfer car speeds can be set anywhere from 40 feet per minute to 300 feet per minute
Safety fence for perimeter guarding

In-floor or above-floor track designs

Cable hose carrier or power-rail for

communication and power to the transfer cars

Allen Bradley controls
Electric hold-downs for load securement
Kaufman Engineered Systems is a premier integrator for FANUC robotics offering robotic palletizers, stretch wrapping machinery, automated packing machines, food packaging machines, high speed packaging and other robotic handling systems. Kaufman is your single source manufacturer for complete end of line automated packaging since 1947.
Videos with Automated Transfer Cars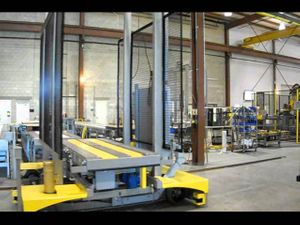 Automatic Two Position Transfer Car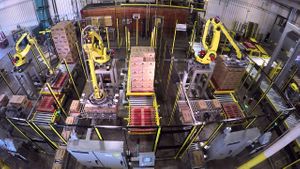 Robotic Case Palletizer, Transfer Car, Pallet Dispenser and Overhead Stretch Wrap System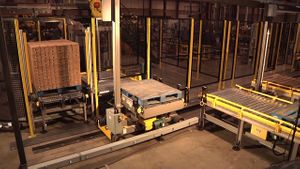 FANUC Robotic Case Conveying and Palletizing Equipment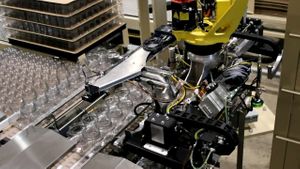 KES Plastic Container Palletizer System Utilizing FANUC Robotics
Why Companies Choose Kaufman Engineered Systems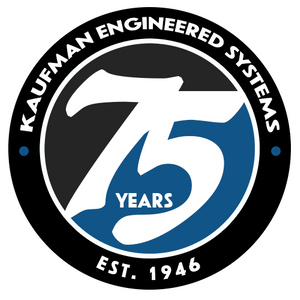 Stability: With over 75 years of serving our customers, Kaufman continues to provide innovative products backed by five-star service.
Quality: No one can match our machinery's superior construction and durability.
Dependability: With our 24-hour service support, you can count on Kaufman to be there when you need us most.
In-House Design and Manufacturing: Kaufman employs an entire staff of electrical, mechanical, and robotic engineers to design and install the machines that meet your specific needs.
Commitment to Excellence: We are customer-focused and recognize that there are no universal automation solutions. Your needs are thoroughly analyzed and reviewed by our engineering staff to find the most efficient, cost-effective solution for your business.
Your Turn-Key Provider: From machine fabrication to installation and start-up, Kaufman is there to support you.
Improve your Bottom-Line: Whether shaving seconds off cycle time or squeezing space out of your plant layout, we are committed to improving your efficiencies and operating costs.