KPac Fully Automated Case Packing Systems Featuring FANUC Robots
With FANUC robotics, designed by our experts at Kaufman, we enhance your flexibility and decrease both downtime and your packaging process footprint to take your case packaging machine performance to the next level.
Inside the Kaufman Engineered Systems research and development lab, our line automation experts customize our proven robotic packaging system designs to suit your exact manufacturing requirements. As a result, your Kaufman KPac automated case packer performs like no other.
Every automated KPac case packer machine brings diverse production efficiencies and capabilities, with adjustable end-of-arm tool solutions to match any product's shape and orientation.
Case Packing System Capabilities:
Plastic Containers
Glass Containers
Pouches
Bags
Bundles
Paper Products
Standard Machine Offerings:
Allen Bradley control components
Kaufman Engineered Systems manufactured end-of-arm tooling
Category (3) safety architecture
In house electrical control panel engineering
In house mechanical design
Additional Machine Offerings:
UL 508A listed control panel
CUL control panel
Case erector
Case sealing
Case conveyor to KES palletizer
Product conveyor and laners
Food grade capabilities
High Speed Picking and Case Packing
Kaufman system installation services
Videos of KPac Systems in Action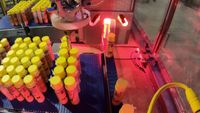 High Speed Packing and Palletizing System for Trays and Cases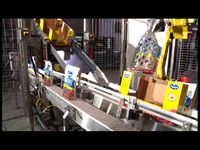 Robotic Pouch Tray Packing Equipment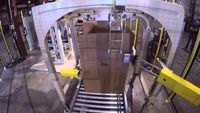 Robotic Bottle Case Packing and Palletizing System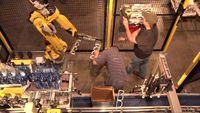 FANUC M20IA Robotic Case Packer Plastic Bottle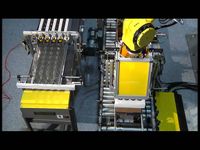 FANUC Robotic Glass Case Packaging System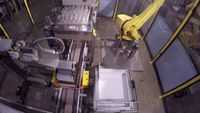 Robotic Case Packer for Inverted PET Bottle Including Vision Error Checking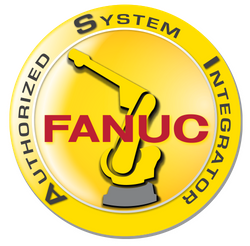 As a level four Authorized Systems Integrator for FANUC Robotics, FANUC's highest level of attainment, Kaufman Engineered Systems applies FANUC robot technology to provide customers with complete end-of-line system solutions.
The solution may be as simple as a dedicated palletizing cell or as complex as a multi-line handling and palletizing system. No matter how big or small, Kaufman Engineered Systems will address each project and customer with the same integrity and professional response.
Service And Support:
With each KPac system comes Kaufman Engineered Systems service and support. Backed by over 75 years of serving customers, Kaufman is a partner you can rely on to respond quickly and efficiently to your service needs. With your KPac Case Packing System, you can choose service options that suit your needs. You can set up quarterly, semi-annual, or annual maintenance support with Kaufman Qualified Technicians.
Kaufman Engineered Systems KPac Case Packing System. Let us help you become a new member of our family. We look forward to working with you.