Automated Material Handling Equipment
In-line automation systems that are built to last
Kaufman Engineered Systems has built its reputation on the design and manufacturing of custom material handling machinery. Our industry-leading machines are built for maximum longevity, so you can rest assured that your systems are always operating at the highest level of performance.
Dual load stackers
Pallet dispensers
Pallet stackers
Bottom sheet feeders
Top corrugated sheet feeders
Top poly sheet feeders
Pallet to pallet transfer units
Pallet to slip sheet transfer units
Load lifters
Dynamic dunnage — the efficient way to index and stage pallets, sheets, top frames and more in a robotic cell.
Robotic Material Handling Systems
Tray forming
Vertical support forming/loading
Automatic machine loading
Corner board applying
Robotic labeling
Vision guided depalletization
Rotating/orienting
In-house electrical control panel engineering
In-house mechanical design
For your company's system requirements, Kaufman Engineered Systems is the expert choice in end of line automation and customized equipment. Contact our award winning account managers for a free consultation. Call 419-878-9727 or email us at info@KES-USA.com.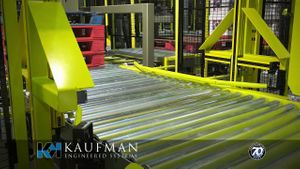 Automatic Pallet Dispensing/Stacking System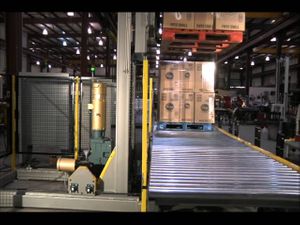 Kaufman Material Handling Equipment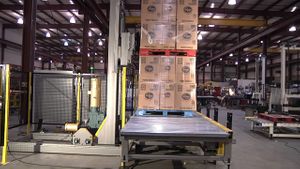 Automatic Dual Load Stacker Equipment
Pallet Dispenser Operation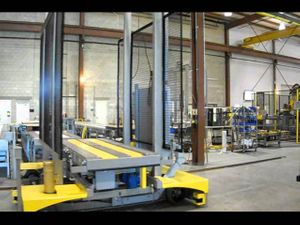 Automatic Two Position Transfer Car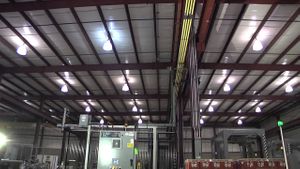 Automatic In line 2 Position Conveyor Transfer Car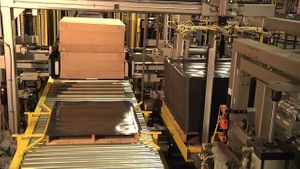 Automatic Tote Upstacking System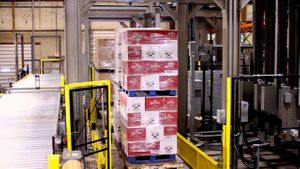 Automatic Train Loader
Kaufman Engineered Systems is a premier integrator for FANUC robotics offering robotic palletizing, depalletizing, case packing, high speed picking and labeling. In addition, Kaufman manufacturers their own line of stretch wrapping, pallet conveying, pallet stacking, pallet dispensing and other material handling offerings. Couple all this with in house controls and Kaufman has the complete solution. Let us help you create your next end of line solution.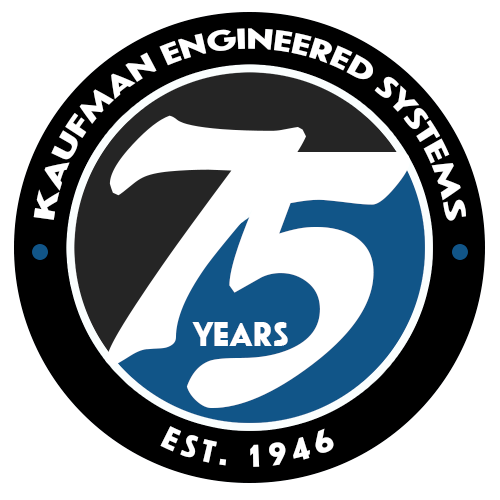 Why Companies Choose Kaufman Engineered Systems?
Stability: With over 70 years of serving our customers, Kaufman continues to provide innovative products backed by five-star service.
Quality: No one can match our machinery's superior construction and durability.
Dependability: With our 24-hour service support, you can count on Kaufman to be there when you need us most.
In House Design and Manufacturing: Kaufman employs a full staff of electrical, mechanical, and robotic engineers to design and install the machines that meet your specific needs.
Commitment to Excellence: We are customer focused, and we recognize that there are no universal automation solutions. Your needs are thoroughly analyzed and reviewed by our engineering staff to find the most efficient, cost-effective solution for your business.
Your Turn-Key Provider: From machine fabrication to installation and start-up, Kaufman is there to support you.
Improve your Bottom-Line: Whether it's shaving seconds off cycle time or squeezing space out of your plant layout, we are committed to improving your efficiencies and operating costs.