End of Line Automation includes any equipment which would be part of the last 30% of a production line. Types of automation commonly found in this area would be high speed picking or placing, case packing, palletizing, and stretchwrapping machines. Commonly, a variety of conveyors will connect these pieces of equipment and network them to work in unison. At this place in the production line the food, paper, beverage, container, building material, personal care, utility product, etc. is already in its individual format or package and the end of line automation does the final work of putting the product into its final package to be palletized. Once the products are palletized stretchwrap equipment performs the final process of securing the packages to the pallet for shipment.
When designing the End of Line Automation solution, there are many things to consider and information to be gathered. Feed rate, size range, type of material, floor space available, are just a few pieces of data which must be outlined in order to design the solution. In addition, the industry which the automation is being designed for will have an effect on what types of machines or models of equipment will be selected. One common goal no matter the industry is to design the End of Line Automation solution which maximizes the uptime efficiency and reliability for the line at your company.
Not sure which technology to choose or need more information? Please Contact Us for further assistance and for a budgetary quote.
End of Arm Tools (EOAT)
End of Arm Tool is what the Automation industry uses to describe the type of tooling which will be designed to attach to the robot to allow the robot to perform the automation task which it is being designed for. Common types of Robotic End of Arm Tools used for palletizing products are Vacuum, Clamp, Spatula, and Full Layer Sweep.
Vacuum End of Arm Tooling for Robotic Automation
Vacuum EOAT's are one of the most common and efficient types of tools used with robots and palletizing. The speeds at which they can operate and the flexibility for picking products makes using vacuum a very attractive solution. In addition, compared to clamp or spatula the cost is another advantage helps make vacuum a desired solution.
Clamp End of Arm Tooling
Clamp tools would rate as number 2 in flexibility and speed. Clamp EOAT's for robots allow customers to be able to service a wide variety of products. The simplicity of the design makes them also a very affordable option. An important consideration when looking at clamp EOAT's is to make sure the product has enough structural integrity or strength in the packaging so the tooling doesn't damage the product.
Spatula End of Arm Tooling
Spatula tools operate very much like what you think by its name. Spatula tools retrieve products by inserting a series of fingers to the underside or bottom of the product or package you are picking. A hold down, typically an air cylinder actuates a plate onto the top side of the product to stabilize during the pick and place process. During the placement process the tynes or fingers retract. A key benefit to using a Spatula style gripper is its very forgiving and supports the product well. If a package is not rigid, and has characteristics which make if delicate to move Spatula is a good choice.
Full Layer (Sweep) End of Arm Tooling of Robotic Palletizers
When it comes to EOAT's full layer is a workhorse. Having the largest weight and footprint out of all EOAT options, with size comes weight and with weight comes a bigger robot. Full layer solutions can carry a lot of product but again with carrying more speeds are reduced due to weight and robot capacities to handle the larger weight. Benefits for full layer include support of products as they are supported from the bottom completely, speed, and handling a wide variety of package types. The downside to the full layer is it typically takes a large footprint, system complexity tends to be higher and commonly carries a larger price tag for the complete offering. For Kaufman Engineered Systems the KPal K5 group is where you can find our full layer offerings.
Introducing Kaufman Engineered Systems KPAL Series of Robotic Palletizers.
Built to meet and exceed expectations and improve your profitability.
Kaufman Engineered Systems is proud to introduce the new KPal series of robotic palletizing solutions! This industry-leading series of palletizers will accommodate a wide variety of product formats including case, tray, bundle, or containers.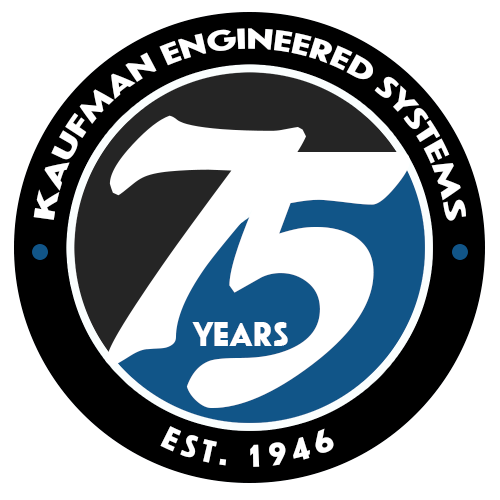 Our reliable, industry-leading robotic palletizing systems offer maximum flexibility to meet your company's needs.
As an Authorized Systems Integrator for FANUC Robotics since 2000, Kaufman Engineered Systems applies FANUC robot technology to provide customers with turnkey end of line system solutions.
Whether as simple as a single cell palletizing system, or as complex as a multi infeed build station — we're prepared to match your requirements. No matter the task, we will treat your project with the same integrity and professional response our customers have come to expect and trust since 1946.
When you automate with Kaufman Engineered Systems Robotic Palletizing Solutions:
Increased line efficiency
Increased production
Improved quality of finished units
Greater line flexibility
Reduction in labor injuries
Reduction in staffing requirements
24-hour service support
Complete Line Automation, Installation and Service in the United States:
Alabama
Alaska
Arizona
Arkansas
California
Colorado
Connecticut
Delaware
Florida
Georgia
Hawaii
Idaho
Illinois
Indiana
Iowa
Kansas
Kentucky
Louisiana
Maine
Maryland
Massachusetts
Michigan
Minnesota
Mississippi
Missouri
Montana
Nebraska
Nevada
New Hampshire
New Jersey
New Mexico
New York
North Carolina
North Dakota
Ohio
Oklahoma
Oregon
Pennsylvania
Rhode Island
South Carolina
South Dakota
Tennessee
Texas
Utah
Vermont
Virginia
Washington
West Virginia
Wisconsin
Wyoming