Kaufman Pallet & Case Handling Conveyor Systems
Automatic Conveying:
Chain driven roller, chain, mat-top, 24-volt roller, tabletop, belt, belt over roller, v-guided belt, just to name a few, Kaufman manufactures or will integrate the right solution to fit the application. Having over 75 years of experience designing and manufacturing conveyor solutions, Kaufman Engineered Systems has extensive knowledge and expertise in applying the best technology for system needs. Kaufman provides conveyor solutions to support product transport to picking and case packing machines, transport and delivery to palletizing systems, and full pallet handling in and around stretch wrap systems. No matter how small or large, simple to complex, Kaufman will work with each customer to design, manufacture, and install the best conveyor solution possible. And when it's all done Kaufman's Service and Support team will be there to assist with any parts, maintenance, or equipment service needs.
Our automated conveyor solutions are unmatched.
At Kaufman Engineered Systems, the difference is in the details. We build our machines to the highest industry standard. From traditional belt and roller systems to turntable transfer conveyors to custom robotic solutions designed to match your operations, our innovative systems ensure smooth, secure and efficient throughput of your product flow.
Place your trust in our decades of industry-leading service: we have the right system for your business's unique needs.
Automated Conveyor Solutions:
Roller Conveyors
Chain Conveyors
Mat-top Conveyors
Belt Conveyors
Gravity Conveyors
Chain-to-Roller Transfer Conveyors
Turntable Transfer Conveyors
Lift and Turn Conveyors
Hi-Low Conveyors
Case and Container Feed Conveyors
Additional Custom Solutions Available
Kaufman Conveyor System Videos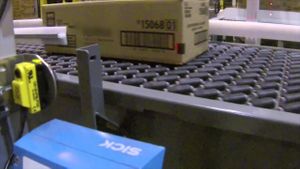 Palletizing Robot Case Conveying Stack and Wrap System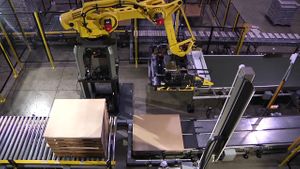 K5 Full Layer Plastic Container Depalletizer and Bundle Palletizing System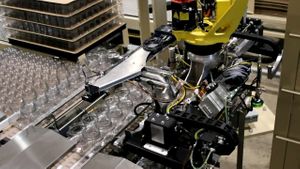 KES Plastic Container Palletizer System Utilizing FANUC Robotics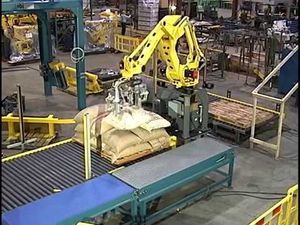 Kaufman Bag Palletizing System Utilizing FANUC Robotics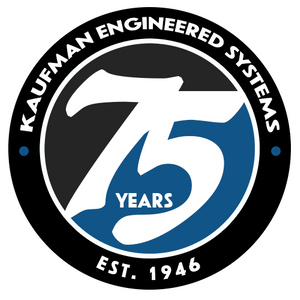 Load Conveyor Standard Features:
Locking bolt, adjustable-height
Completely welded seam 11 gauge rollers using ABEC 1 premium sealed bearings and zinc plating
Every roller chain driven
Low chain guard one side: removes the possibility of damage when loading or unloading the conveyor from the side
4,000# + weight rating
1 Hp AC motor
Welded structural channel frame construction
Additional Automated Conveyor System Options:
2 ½" and 3 ½" rollers on various sized centers to match needs of conveyor-to-unit-load requirements
Sanitary design including continuous welds, caulked joints, food-grade oil/lubrication
Lexan window on drive guard for easy maintenance inspection
7 gauge wall rollers
Tubing frame construction
Top of roller elevation to suit
Kaufman installation services
Your company deserves the best for your material handling needs. Contact our award-winning account managers for a free consultation. Call 419-878-9727 or email us at info@KES-USA.com.
Upgrading Existing Equipment?

We are your single source for end-of-line automation. We design, manufacture, and integrate with fewer headaches, less paperwork, and no compatibility issues. With Kaufman, you get the best, most efficient system for your business.
Kaufman Engineered Systems is a premier integrator for FANUC robotics offering robotic palletizers, stretch wrapping machinery, automated packing machines, food packaging machines, high-speed packaging, and other robotic handling systems. Kaufman is your single source manufacturer for complete end-of-line automated packaging since 1947.